614.DEVELOPMENT OF INNOVATIVE BRAKE SYSTEM FOR ROLLING STOCK
Keywords:
railway, development, brake system, innovation, simulation
Abstract
In this paper is shown the importance of introducing innovative products in railway industry, especially when it comes to products from which depends the railway traffic safety, like the brake systems. These brake systems have the essential function of decelerating and stoping of rolling stock. Because the brake systems are a subject of large static and dynamic loads in external conditions, the development of this type of system is a long and complex process. In this paper is shown one part of innovative brake system development by using computer simulation.
References
Chary, R., Khan, E.: Design and Analysis of Train Brake System, International Journal of Advanced Research and Innovation, Vol. 7, Issue 3, pp. 27–33 (October 2014).
Wynd, D., Connelly, M.: Advanced Bogie Brakes, Proceedings, Conference on Railway Engineering, Wellington, September 12–15, 2010.
Sharma, R. C., Dhingra, M., Pathak, R. K.: Braking Systems in Railway Vehicles, International Journal of Engineering Research & Technology, Vol. 4, Issue 1, pp. 204–211 (January 2015).
Дуковски, В.: Менаџмент на развојот на нови производи, Универзитет "Св. Кирил и Методиј", Скопје, 2001.
Smileski, S., Smileski, T.: Integrated bogie brake and slack adjuster for the use with said integrated bogie brake, Patent WO 2013098350 A2, December 27, 2011.
Smileski, T., Rakipovski, R., Mičić, M.: Comparison of Classical Brake for Freight Wagons with New Integrated Bogie Brake IBB10 for Freight Wagons, RAILKON `16, Niš, October 13–14, 2016.
Weidemann, C.: State of the Art Railway Vehicle Design with Multi-Body Simulation, Journal of Mechanical Systems for Transportation and Logistics, Vol. 3, No 1, pp. 12–26 (2010).
Bhuiyan, N.: A framework for successful new product development, Journal of Industrial Engineering and Management (JIEM), Volume 4, Issue 4, pp. 746–770 (2011).
BS EN 13749:2011, Railway Applications – Wheelsets and Bogies. Method of specifying the structural requirements of bogie frames, 2011.
Artner, W.: MBD/FEA-Analysis IBB10 Brake System New Design, Report a 13010 RV0, November 2013.
Вртаноски, Г.: Иновациите и инвенцијата – vслов за излез од економската криза, предавања на постдипломски студии (ПЛМ), Развој и менаџмент на производите, Универзитет "Св. Кирил и Методиј", Машински факултет, Скопје, 2012.
Kim, L.: Imitation to Innovation – The Dynamics of Korea's Technological Learning, Harvard Business School Press, 1997.
Lunden, R., Vernersson, T.: Mechanical braking systems – development and challenges, Presentation at 19th Nordic Seminar on Railway Technology, Chalmers University of Technology, Lulea, September 14–15, 2016.
Pugi, L., Palazzolo, A., Presciani, P., Fioravanti, D.: Simulation and optimization of railway pneumatic braking system, World Congress for Railway Research WCRR2006,Montreal, June 2006.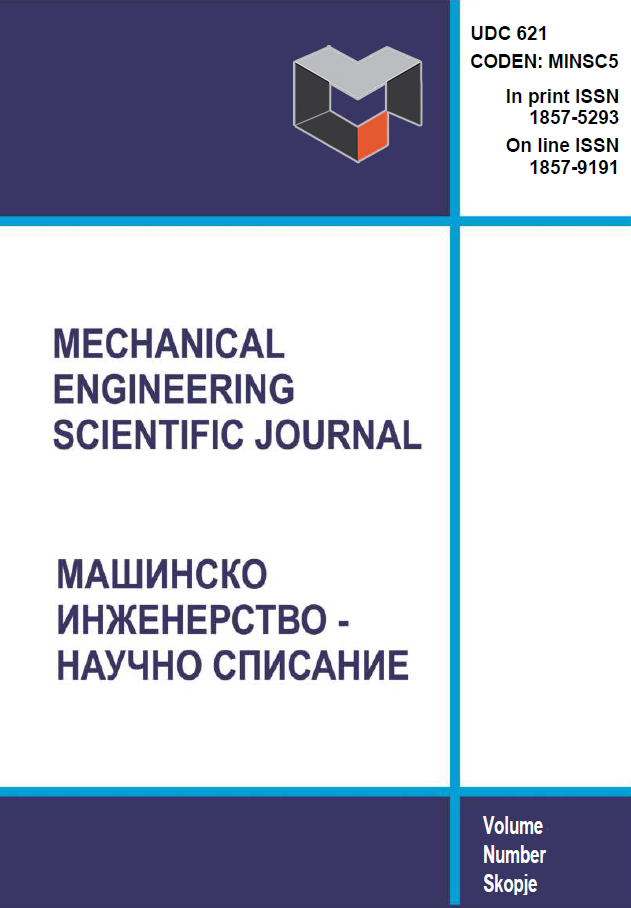 Downloads